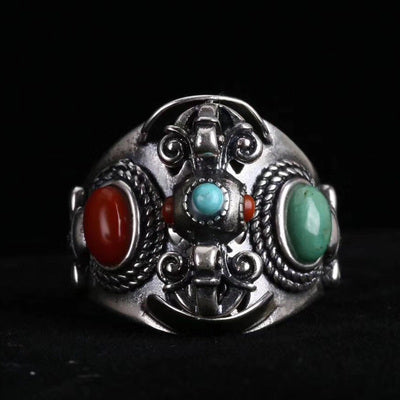 Details
☸️ Tibetan Spinning Vajra Ring ☸️
☸️A vajra is a weapon in Tibetan Buddhism used as a ritual object to symbolize both the properties of a diamond (indestructibility) and a thunderbolt (irresistible force); Often to represent firmness of spirit and spiritual power. According to the mythology, vajra is considered as one of the most powerful weapons in the universe. 
☸️ This intricately handcrafted Spinning Vajra ring captures the essence of this formidable spiritual weapon, spinning the vajra is regarded as very auspicious and is believed to drive out evil spirits from where the ritual is being performed and therefore bring protection and harmony to the blessed. 
☸️Painstakingly handcrafted, hand polished and hand embellished. Made to order production lead time is around 5-7 days. 
☸️925 sterling silver ring with golden overlay brass, weighing in at approximately 16.5 grams.
☸️Embellished with natural South American red onyx and Tibetan blue turquoise stones.
☸️Adjustable one size fits all- US 6 to US 12.