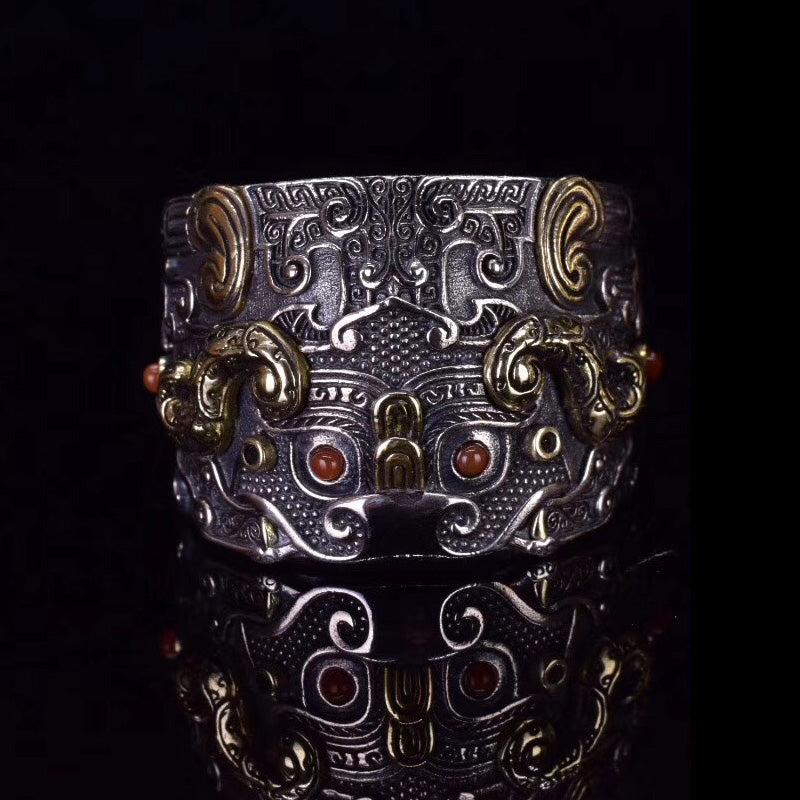 Holy Buyble
Tribal Wild Yak Ring
Details
🐂 Tribal Wild Yak Ring 🐂
🐂 Legend has it, the Kui 夔牛 is a one-legged mountain demon said to resemble a dragon without horns, it symbolizes the character of a true leader--straightforward yet  gentle and dignified, strong but not tyrannical, impetuous yet not arrogant. This ring captures the soul of this legendary creature, bold yet elegant, striking yet unpretentious. Its mystic aura is simply intriguing that will cast a spell on its admirers. 
🐂 Painstakingly handcrafted with elaborate totem patterns and adorned with natural red onyx and blue turquoise gemstones, this ring simply oozes ancient charms.
🐂 Adjustable ring fits US 8-13
🐂 925 Sterling Silver Ring with golden brass details
🐂 Natural Blue Turquoise & Red Onyx gemstone embellishments. 
🐂 2.2x2.1cm / 0.8x0.8''
🐂 Weighing in at approximately 15.5 grams, gold edition 19.5 grams. 
🐂 Hand polished to medium sheen & antique finish