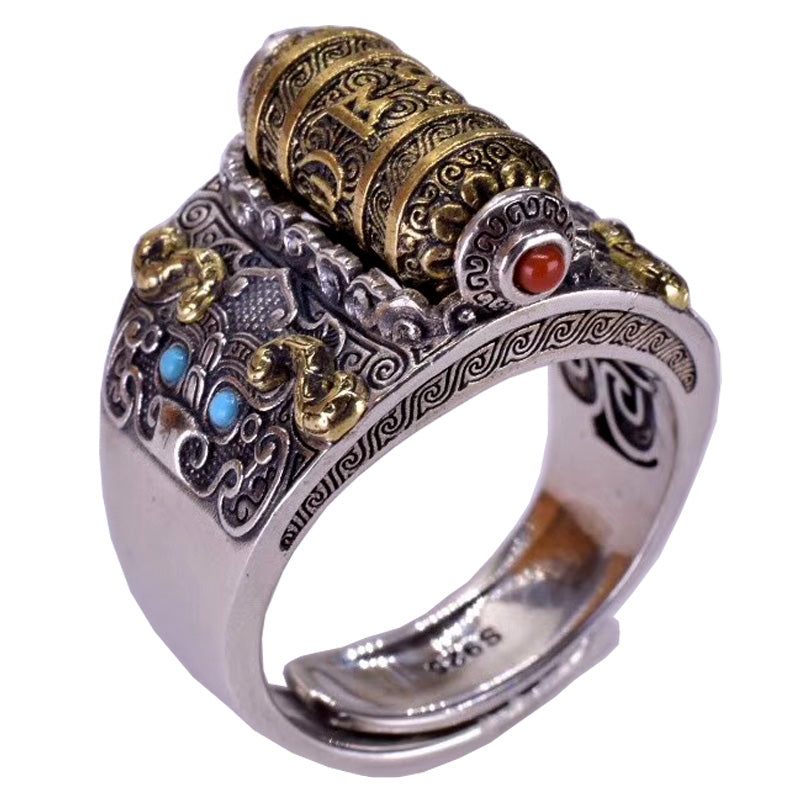 Holy Buyble
Tibetan Prayer Wheel Ring
Details
☸️ Tibetan Prayer Wheel Ring ☸️
☸️An intricately handcrafted ring with spinning Tibetan Prayer Wheel, carved with traditional mantra Om Mani Padme Hum, it is created to bring peace and love in your life. 
According to the Tibetan Buddhism, prayer wheels are used to accumulate wisdom and merit (good karma) and to purify negativeness (bad karma). In Buddhism, Buddhas and Bodhisattvas have created a variety of skillful means to help bring practitioners ever closer to realizing enlightenment. 
Spin the wheel clockwise (as the direction in which the mantras are written is that of the movement of the sun across the sky) is said to have the capacity to completely transform a place, which becomes "...peaceful, pleasant, and conducive to the mind." Simply touching a prayer wheel is said to bring great purification to negative karmas and obscurations.
Spin and feel the good vibes.
☸️Painstakingly handcrafted, hand polished and hand embellished. 
☸️925 sterling silver ring with golden overlay brass, weighing in at approximately 18.5 grams.
☸️Embellished with natural red onyx and blue turquoise stones
☸️Adjustable one size fits all- US 6 to US 13.