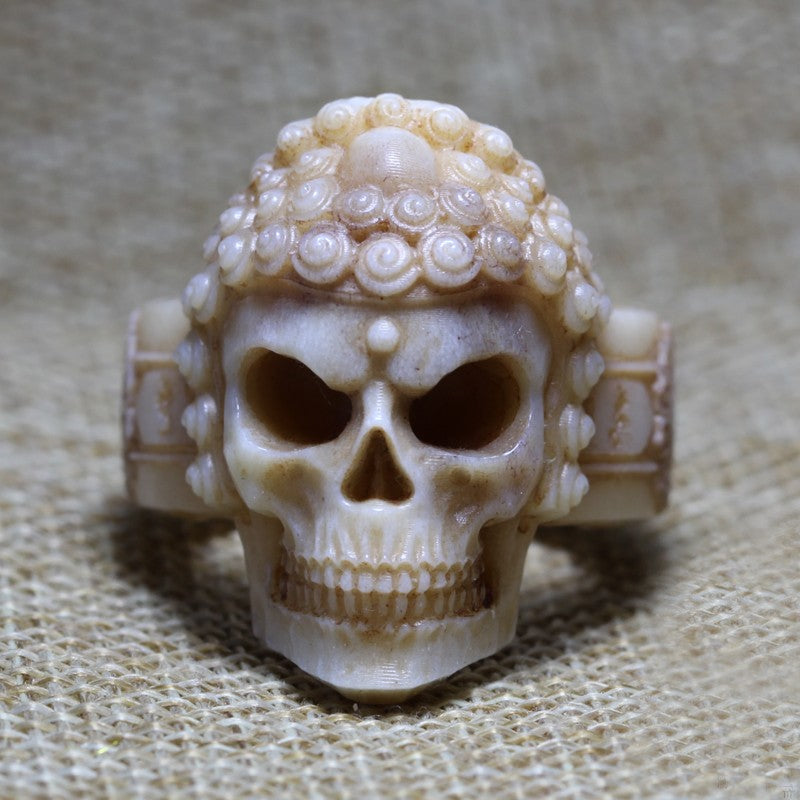 Details
☠☠☠ Buddha & Demon Skull Mantra Ring ☠☠☠
☠ Intricately crafted and hand tuned with stunning details, this Buddha & Demon Skull Mantra deer antler ring is a true eye-catcher. The Buddha skull face oozes ancient mystical aura and it's believed in Buddhism to ward off evil spirit. The hand carvings of six-syllabled mantra "Auṃ maṇi padme hūṃ"ཨོཾ་མ་ཎི་པདྨེ་ཧཱུྃ in Tibetan on the ring complete this devilish piece of wearable art, it truly reflects the symbol of the Buddha skull: from impurity to enlightenment.
(Mantra Auṃ maṇi padme hūṃ mean that in dependence on the practice of a path which is an indivisible union of method and wisdom, you can transform your impure body, speech, and mind into the pure exalted body, speech, and mind of a Buddha.)
☠ Made of ethically harvested deer antler, each piece has its unique patterns and coloration. 
☠ Painstakingly handcrafted, made to order production lead time is around 7-10 days.  
☠ For tailor-made sizing, please leave your size at the check out or contact us before placing order to ensure perfect fit.