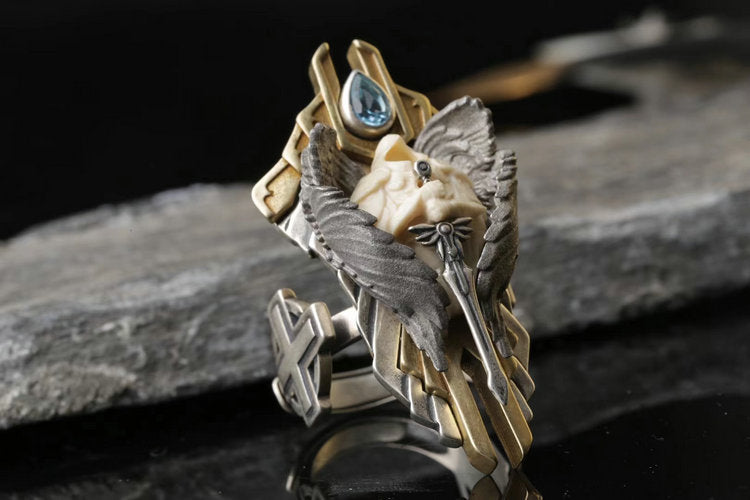 Holy Buyble
Tyrael Diablo Winged Archangel Detachable Ring Pendant. Limited Edition
Details
Tyrael Diablo Winged Archangel Detachable Ring Pendant


🗡️ An archangel of justice and wisdom, a mortal but angelic being, Tyrael is humanity's greatest defender. He's a chosen angel for protection and guidance, as legend has it, not even death could stop his embodiment of Justice. 


🗡️ With unique technique of mixed media combination of Mammoth Ivory fossil, golden overlay brass shield, sterling silver ring and adorned with Blue Topaz gemstone, this detachable archangel ring & pendant truly is a creature of heavenly blessing.


🗡️
The 12.000 years old Mammoth ivory fossil is legally harvested from Russian Permafrost, making it a rare investment piece to be cherished for ages to come. Blue Topaz stone 
is known to soothe, recharge, heal, stimulate, and redirect the energies of the body & soul. It's a stone that will enhance forgiveness and truth, and bring joy, abundance, generosity, and 
good
 health. It's known as the gemstone of love, affection, and 
good
 fortune. Combining those elements this archangel ring truly embodies heaven sent blessing and protection.


🗡️ Made to order average production lead time is around 10-15 days.
🗡️ Ring is made to be adjustable, suitable for US 6 to 13. 
🗡️
50
x26 mm weighing in at approx.35 grams of mix media metal, natural Blue Topaz gemstone and Mammoth ivory fossil combination.
🗡️ Ships with a leather cord necklace.