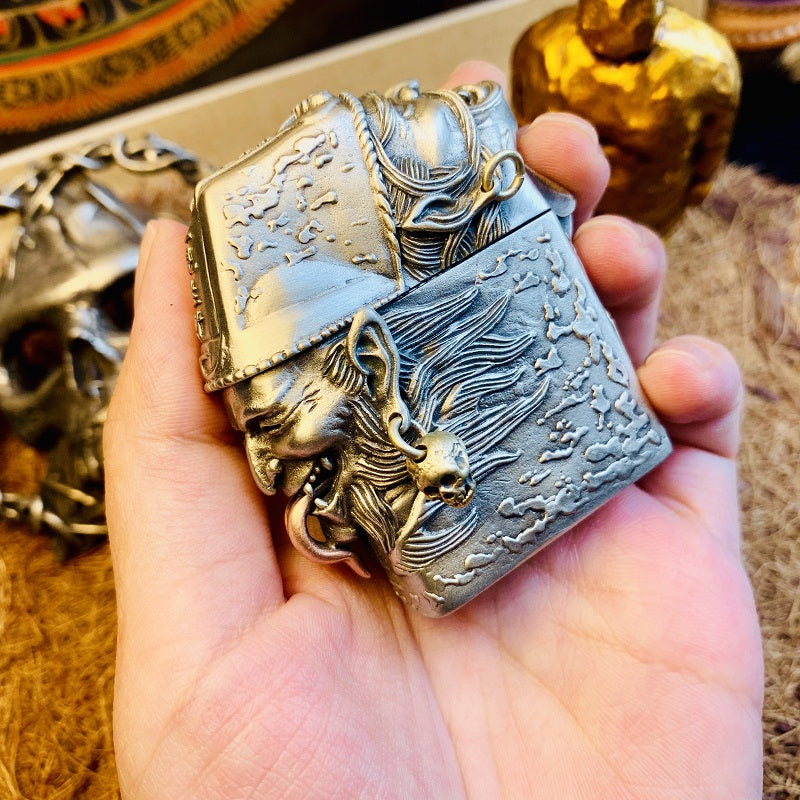 Holy Buyble
Two-faced Ghost of Impermanence Lighter Case
Details
☠☠☠ Two-faced Ghost of Impermanence Lighter Case  ☠☠☠
☠ Black & White Wuchang are two deities in charge of escorting the spirits of the dead to the Underworld.They are worshiped as fortune deities and are represented as a single being - known as the Wuchang Ghost, literally "Ghost of Impermanence". Depending on the person it encounters, the Wuchang Ghost can appear as either a fortune deity who rewards the person for doing good deeds or a malevolent deity who punishes the person for committing evil.


☠ The White Ghost on the front side is the snow-fair complexioned man wearing a tall hat bearing the words "Become Rich Upon Encountering Me" (
一見發財
 / 
一見生財
), "Become Lucky Upon Encountering Me" (
一見大吉
). 
The Black Ghost is typically represented as a dark complexioned man wearing a hat bearing the words "Peace to the World" (
天下太平
). The ferocious snarls on their faces and long red tongue sticking out the mouth to scare away evil spirits. 
☠ These otherworldly badasseries demand attention with their intricate hand carvings and embellishments, devil truly lies in the details. 🔥🔥🔥

☠ Made to order average production lead time is around 5 days.

☠ Lighter case fits most commercial lighter brands.
☠ Available in brushed Tibetan Silver, Mirror Finish Shinny Silver, Yellow Brass and Purple Copper.