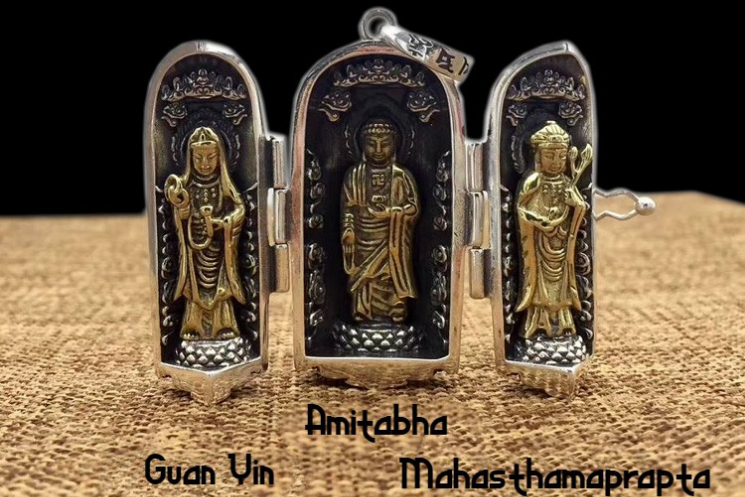 Holy Buyble
Three Sages of the West Buddha Pendant
Details
☸️ Three Sages of the West Buddha Pendant ☸️
☸️ The statues of the Three Sages of the West, namely Guanyin, Amitabha and Mahasthamaprata are highly regarded Buddhas in the Pure Land Buddhism. Guanyin, the Goddess of Mercy and Compassion. Amitābha is "The Buddha of Immeasurable Light and Life" and the highest principle Buddha of the Pure Land. Mahāsthāmaprāpta is a Bodhisattva that represents the power of wisdom, her name literally means "arrival of the great strength".
The trinity of the Buddhas often represents the highest level of enlightenment and protection in Buddhism, bringing the worshipers the infinite light and strength. 
☸️ Intricately handcrafted with stunning details, this trinity pendant is a true statement piece to keep your heaven's blessing close to you.
☸️ Painstakingly handcrafted, made to order production lead time is around 5-7 days.
☸️ 53 x 24 mm, 8 mm Bail Opening
☸️ Approximately 48.4 grams of 925 sterling silver and golden tone brass
☸️ Polished to medium sheen & antique look
☸️ Priced for the pendant only, prayer beads necklace not included