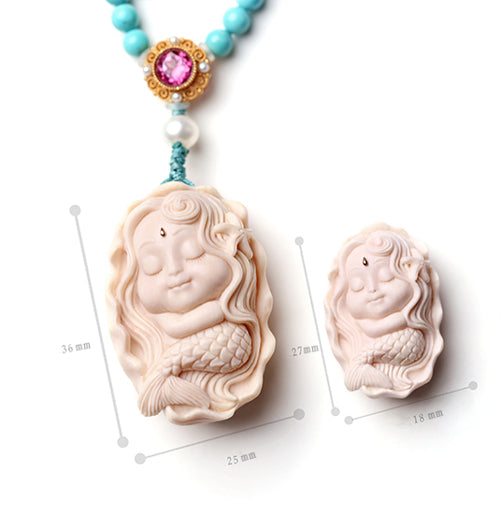 Holy Buyble
Sleeping Beauty Little Mermaid Guru Bead
Details
🧜🏻‍♀️ Sleeping Beauty Little Mermaid Mammoth Ivory Fossil Guru Bead 🧜🏻‍♀️
🧜🏻‍♀️
Irresistibly adorable and sweet, this Little Mermaid bead is intricately hand carved with seashell details truly embodies the
sacred feminine and symbolize renewal and 
revitalization. She brings so much peace and Zen to brighten up your soul. 
🧜🏻‍♀️ These Little Mermaid beads

 are hand carved from Mammoth Ivory

 fossil, these rare wearable cuties are your effortless statement piece to bring love & light. The fossil is legally sourced from the permafrost of the Arctic, each fossil is about 12.000 years old, making these sleeping beauty truly unique and magical.


🧜🏻‍♀️ Made to order production lead time is around 10 working days. 
🧜🏻‍♀️ Large Guru Bead is approximately 36 x 25 mm and the small size is 27 x18 mm. Please contact us for custom size.
🧜🏻‍♀️ 18K gold waterdrop jewel detail.
🧜🏻‍♀️ Sold standard as little mermaid figurines, please contact us for customization as a Guru bead for necklace or bracelet.