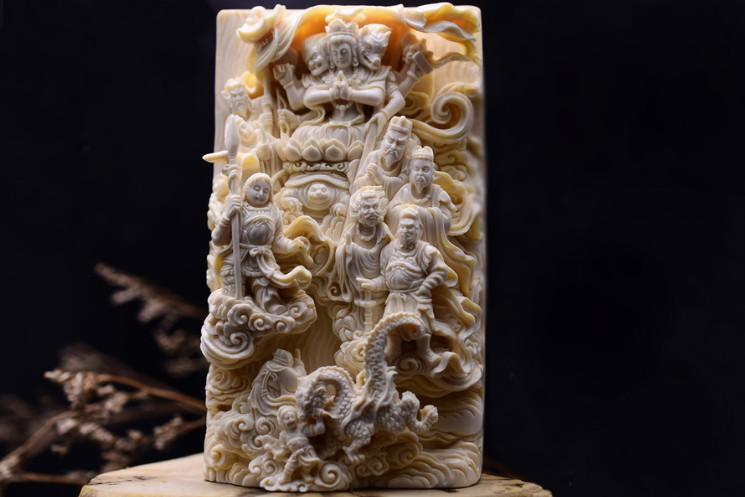 Holy Buyble
Double Sided Mammoth Ivory Fossil Mother of the Big Dipper Pendant
Details
🌌 Mammoth Ivory Fossil Mother of the Big Dipper Pendant 🌌
🌌 Intricately handcrafted with finest devilish details and impeccable craftsmanship, this Mammoth Ivory Fossil Mother of the Big Dipper Pendant is a true statement piece and an extraordinary piece of wearable art that showcases flagship level of ancient carving finesse.
🌌 Dǒumǔ (Chinese: 
斗母
; literally: 'Mother of the Big Dipper'), is a goddess in Chinese religion and Taoism. She is also named through the honorific Tiānhòu (
天后
 "Queen of Heaven"). 
She is the feminine aspect of the cosmic God of Heaven.
 The seven stars of the Big Dipper, in addition to two not visible to the naked eye, are conceived as her sons, the 
"Nine God-Kings", themselves regarded as the ninefold manifestation of 
"Great Deity of the Nine Kings", another name of the God of Heaven. She is therefore the Mother of the God of Heaven.
🌌 Double Sided carvings pushing the craftsmanship and technique expertise to the limit, incredible amount of details hand carved onto such a small and delicate surface making this pendant a truly breathtaking piece of heaven-sent art. 
🌌 Carved from 
legally sourced Mammoth Ivory fossil from the melting permafrost of Russia's Arctic, each fossil is about 12.000 years old, a truly unique piece that belongs to the fortunate few. 
🌌 Made-to-Order production lead time is around 5-6 weeks for this pendant to be handcrafted and hand tuned. 
🌌 Mammoth fossil government certificate available on request. Certification charges are $25.
🌌 Bail opening size can be customized.
🌌 Pendant dimension approximately 54.5mmx91mmx36mm (WxHxD)