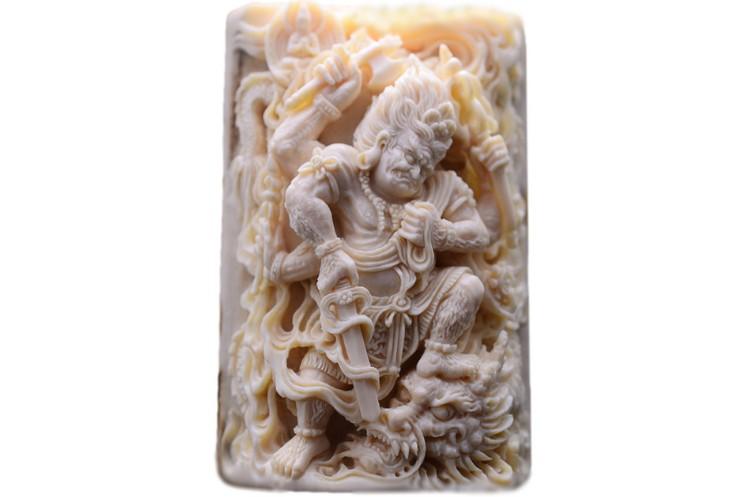 Holy Buyble
Double Sided Mammoth Ivory Fossil Immovable Protector Acalanatha Pendant
Details
☠ Mammoth Ivory Fossil Immovable Protector Acalanatha Pendant ☠
☠ 
Intricately handcrafted with finest devilish details and impeccable craftsmanship, this Mammoth Ivory Fossil Immovable Protector Acalanatha is a true statement piece and a rare piece of wearable art.
Famous for his intense facial expression and demeanor, Acalanatha is a king of wisdom in Buddhism, Acala is said to be a powerful deity who protects all by burning away all impediments and defilement,
thus aiding them towards enlightenment.
☠ Double Sided carvings pushing the craftsmanship and technique expertise to the limit, the Buddha carving on the backside creates the harmonious balance to reflect the Yin Yang energy of the both worlds.
☠ Carved from 
legally sourced Mammoth Ivory fossil from the melting permafrost of Russia's Arctic, each fossil is about 12.000 years old, a truly unique piece that belongs to the fortunate few. 
☠ Made-to-Order production lead time is around one month for this pendant to be handcrafted and hand tuned. 
☠ Mammoth fossil government certificate available on request. Certification charges are $25.
☠ Bail opening size can be customized.