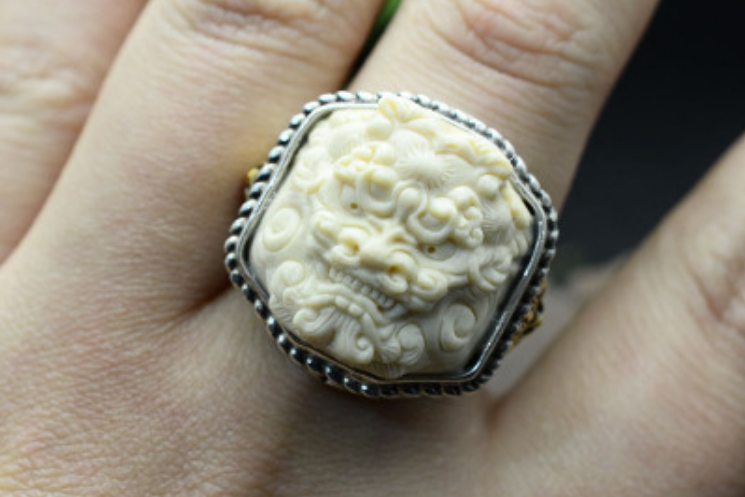 Holy Buyble
Mammoth Ivory Fossil Foo Dog Ring
Details
 ☠☠☠ Guardian of Good Fortune Foo Dog Ring ☠☠☠
☠ Traditionally to the ancient Chinese, Foo Dog has always been regarded as an auspicious creature that possessed mystical powers capable of drawing Qi of wealth from all directions. It is regarded as a heavenly protector and a way of receiving and keeping fortunes and wealth and a guardian to ward off evil spirit. 
☠ This intricately handcrafted Foo Dog ring may just hold the power to ward off other evil spirits and danger that may affect or harm you. It oozes ancient mystic aura and heavenly power, no matter where you go, keep it with you for the never ending flow of energy, protection and wealth.
☠ The base of the ring is handcrafted by master craftsman in 925 sterling silver, the Foo Dog face is hand carved from Mammoth Ivory fossil, this rare piece of ring is your effortless statement piece to show off your great fortune.
☠ Made to order production lead time is around 15 days. 
☠ Ring is approximately 38 x 30 mm (HxW) and weighing in at approximately 13 grams.
☠ Legally sourced Mammoth Ivory fossil from the melting permafrost of Russia's Arctic, each fossil is about 12.000 years old, a truly unique piece that belongs to the lucky fortunate few. 
☠ Adjustable ring fits US 6-12