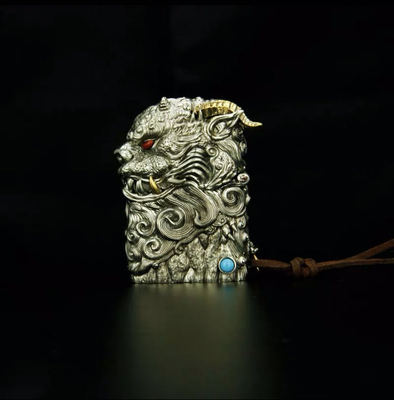 Holy Buyble
Horned Beast Custom Lighter Case
Details
☠☠☠ Horned Beast Custom Lighter Case ☠☠☠


☠
Legend has it, the mystic hybrid beast of Pixiu is a part winged lion and part dragon considered to be a powerful protector of practitioners of Feng Shui. This Unicorn beast is an influential and auspicious creature for wealth. It is said to have a voracious appetite towards only gold, silver and jewels. Therefore, according to ancient oriental tradition, Pixiu has always been regarded as auspicious creatures that possessed mystical powers capable of drawing Qi of wealth (
財氣
) from all directions. Because of this, it is especially helpful for those who are going through a bad financial year. Carrying a Pixiu figure is said to prevent wealth from flowing away and attracting more abundance at the same time.
☠ This intricately handcrafted Horned Beast Pixiu light case may just hold the power to bring its master richness and good fortune. It oozes ancient mystic aura and fierce power, no matter where you go, keep it with you for the never ending flow of opulent energy.
☠ Made to order average production lead time is around 10-15 working days.
☠ Lighter case: Medium sheen vintage finish. Available in Copper-nickel Alloy, Brass, Red Copper and Sterling Silver.
☠ Embellished with natural red onyx and blue turquoise gemstones. 
☠ Ultra thick and heavy case, it's a true beast to behold. 
☠ Lighter case only. Case fits most commercial lighter inners.