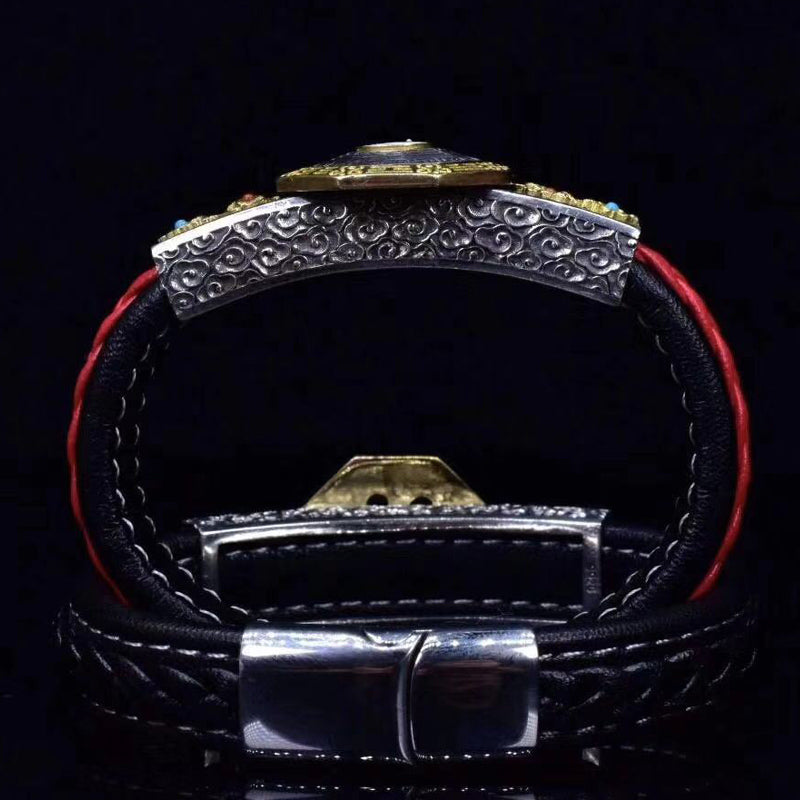 Holy Buyble
Four Symbols Spinning Yin Yang Wheel Leather Bracelet
Details
☠☠☠ Four Symbols Spinning Yin Yang Wheel Leather Bracelet ☠☠☠ 
☸️
The Four Symbols
are four mythological creatures viewed as the guardians of the four cardinal directions. These four creatures are also referred to as "Four Guardians", "Four Gods", and "Four Auspicious Beasts". They are the Azure Dragon of the East, the Vermilion Bird of the South, the White Tiger of the West, and the Black Tortoise of the North. 
Each of the creatures is intricately handcrafted on the bracelet to represent the four seasons of the year and elements of earth's energy--The Azure Dragon of the East represents Wood, the Vermilion Bird of the South represents Fire, the White Tiger of the West represents Metal, and the Black Tortoise (or Dark Warrior) of the North represents Water.

☸️ The Yin Yang wheel is regarded to describe how seemingly opposite or contrary forces may actually be complementary, interconnected, and interdependent in the natural world, and how they may give rise to each other as they interrelate to one another. Spinning the Yin Yang Wheel is said to bring balance and harmony into life.

☸️ 
This heaven-blessed bracelet consists intricately handcrafted Yin Yang spinning wheel and gemstone adorned Four Symbols, made of premium calf leather with magnetic closure, it is your effortless statement piece to match your exquisite exotic taste.  
☸️ Made to order piece, average production lead time is around 3-5 days. 

☸️ Made to fit bracelet, please leave your wrist size at the check out for us to tailor the bracelet for your perfect fit. 

☸️ Bracelet is approximately 45 grams

☸️ Embellished with natural Red Onyx and Blue Turquoise gemstones.