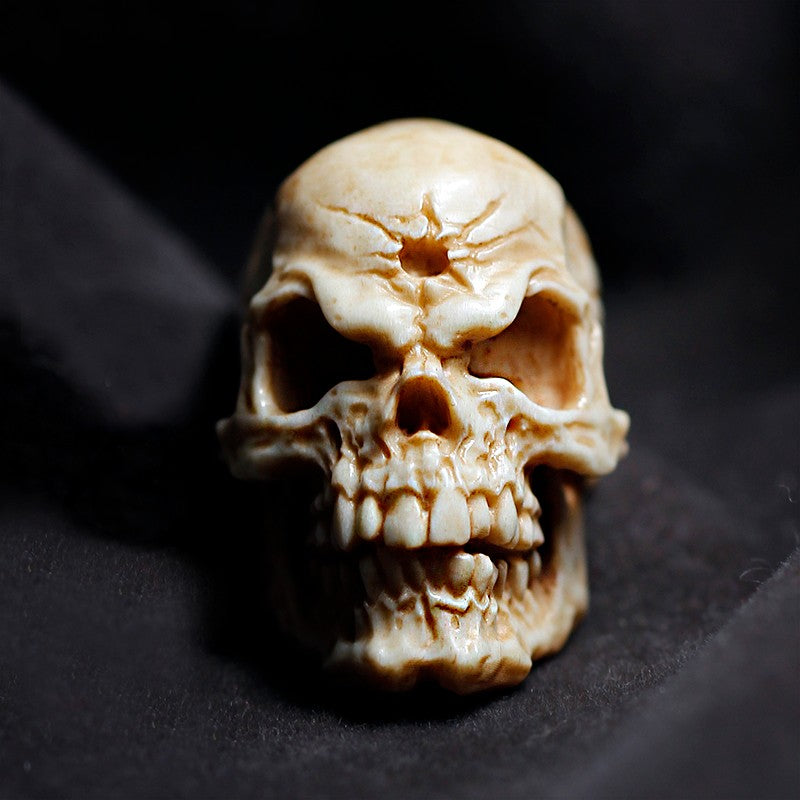 Holy Buyble
Deer Antler Decayed Chitipati Skull Bead
Details
☠☠☠ Deer Antler Decayed 

Chitipati

 

Skull Bead ☠☠☠
☠ 
Chitipati is a protector deity in Tibetan Buddhism and Vajrayana Buddhism of the Himalayas. 
The Chitipati is said to be one of the seventy-five forms of Mahakala ( a manifestation of Shiva). 
Their symbol is meant to represent both the eternal dance of death as well as perfect awareness. They are invoked as wrathful deities and 
benevolent protectors of the ancient graveyards of the Himalayas. 
☠ 
Intricately handcrafted deer antler sculpture skull bead with hellish details, this
ultimate badass skull bead made for the true devils. Made of naturally shed deer antlers from ethically farmed source, hand polished to smooth bone texture, hand carved to the finest realistic details. This bead is made of matured deer antler of highest grade of density, adding to its mysterious hellish aura and durability.
☠
Made to order production lead time is around 7-10 days. 
☠
 Bio-diverse farmed deer antler from pollution-free mountain slopes gives this skull bead skin-loving
gentleness. Hand polished and waxed for smooth texture and weather protection.
☠ Available in 4 sizes, it's a perfect centerpiece as bracelet bead or necklace pendant. 
☠ Mini
: 15x23 mm 
☠
Small
: 18x27 mm 
☠ Medium
: 21x32 mm
☠ Large
: 24x36 mm