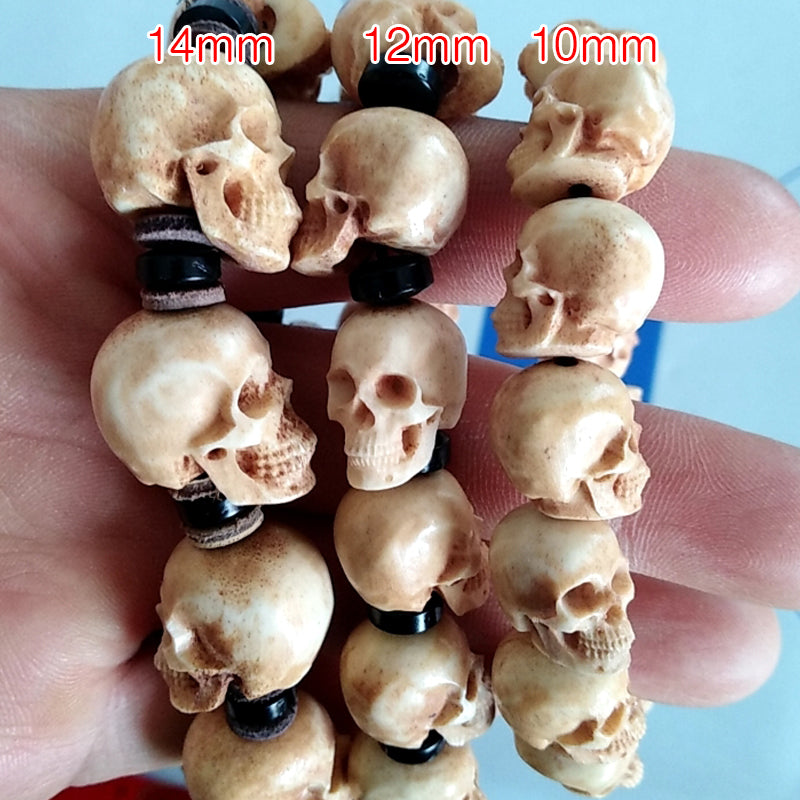 Holy Buyble
Customizable Deer Antler Rustic Skull Bracelet
Details
☠☠☠ Customizable Deer Antler Rustic Skull Bracelet ☠☠☠
☠ A statement skull bracelet made of handcrafted miniature sculpture rustic deer antler skulls, this is the ultimate badass bracelet for the daredevils. Made of naturally-shed deer antlers from an ethically farmed source, hand polished to realistically resemble the skull texture, hand carved to the finest devilish details- the cracks, the teeth and the marks all make this bracelet a hell of skull realness. The devil truly lies in the details, it's truly devilish to the bone.  
☠ Customization options available for individual skull sizes ( mix & match ), coloration and centerpiece personalization, please CONTACT US for your own personalized killer skull piece. 
☠ Available standard sizes: 10 mm, 12 mm, 14 mm, 16 mm and 18 mm skull beads, larger skull sizes are also available for customization.
☠ Available colors : Decayed Brown, Dark Knight Black and Bleached Ash White. Please note that Bleached Ash White color is prone to smudge and it's difficult to maintain its white coloration. 
Please note the standard bracelets do not come with over-sized centerpiece of custom design skull beads, photos are for styling demonstration only.