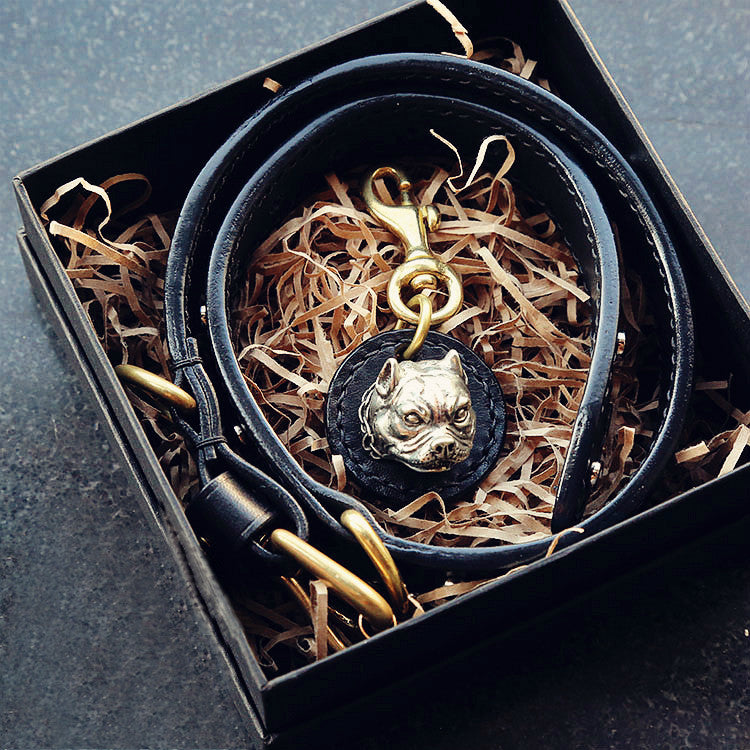 Holy Buyble
Bulldog Premium Leather Dog Collar
Details
☠ ☠ ☠ Bulldog Premium Dog Collar ☠ ☠ ☠
☠ This handcrafted luxury dog collar in La Bretagna Italian Leather is made for those with exquisite taste. Nothing is too much when it comes to showing love to your beloved loyal kids.
☠ This premium leather grows in France and tanned in Tuscany Italy, handcrafted by our craftsmen in Shanghai, with the best of the best worlds, you are giving your dog the best love possible. 
☠ This made to order dog collar takes approximately 5 days to perfect, please contact us for details before ordering. 
☠ 100%
La Bretagna Italian Leather
☠ Lining: Premium French Crispe Chevre Lambskin
☠ Brass Bulldog details
☠ 
Glace Cordonnet Stichings 
☠ Heavily Made, suitable for Medium to Small breeds of dogs
☠ Measure your dog for the right size, suitable for dog collar size around 25-50cm / 9.8-19.6''
☠ 2.5cm /0.98'' Wide, hand-stitched, hand-fixed premium statement piece.