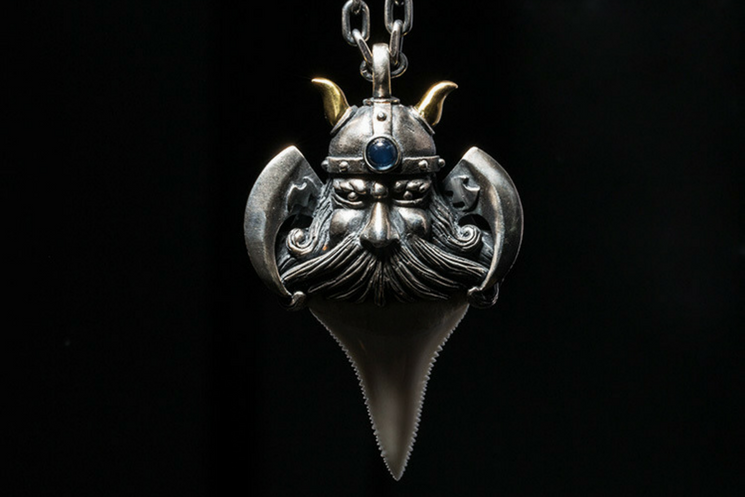 Holy Buyble
Bearded Viking & Shark Tooth Pendant
Details
☠☠☠ Bearded Viking & Shark Tooth Pendant ☠☠☠
☠ A striking Bearded Viking & Shark Tooth made for the fearless warriors, a lot of intricate details are packed into this awesome Pendant. The majestic facial expression, the 18K gold horns and gold sailor wind rose details and the razor sharp real shark tooth all ooze masculinity and warrior spirit.
☠ Handcrafted by master craftsman with 925 sterling silver and 18K gold, embellished with the crown jewel made of natural untreated blue sapphire gemstone, this Viking Pendant is your effortless statement piece.The more you wear it, the more it becomes a part of your identity.
☠ Go sail, go chase your dreams, never let fears stop you, you've got a warrior in you! 
☠ Made to order handcrafted piece, average production lead time is around 15-20 days. 
☠ Custom Made Dimensions and choices of gemstones, please contact us for design details.
☠ Main Material: Sterling Silver + 18k Gold + Untreated Natural Blue Sapphire + Real Shark Tooth