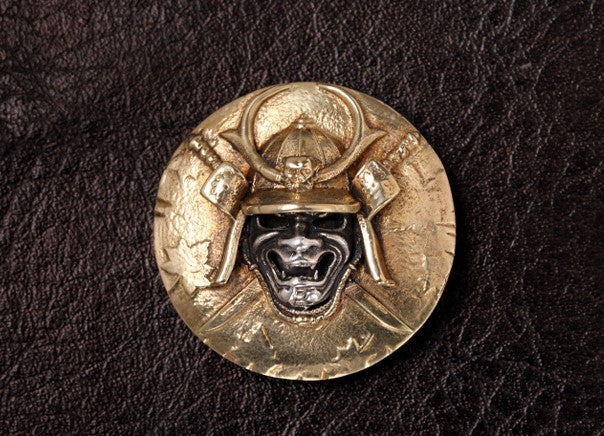 Holy Buyble
Japanese Samurai Mask Button
Details
☠☠☠ Japanese Samurai Mask Button ☠☠☠
☠ The ultimate fearless warrior spirit captured into this badass Japanese Samurai skull button with intricately handcrafted Kabuto warrior helmet details. So much hellish details are packed into this small button,
 the fearsome facial expression and the dark black eye sockets ooze masculinity and devilish power.
☠ Handcrafted with 925 sterling silver or golden overlay brass,made to order average production lead time is around 5-7 days when stock runs out. 
☠ Approximately 30 mm in diameter, weighing in at approximately 12 grams with silver base and 9 grams with brass base.
☠ Available in brass base with sterling silver mask and sterling silver base with copper mask.
☠ Suitable for leather goods such as wallets, belts, bags, apparel such as jackets, t-shirts,hoodies.